Hart Nursery is owned by Gary and Pam Hart.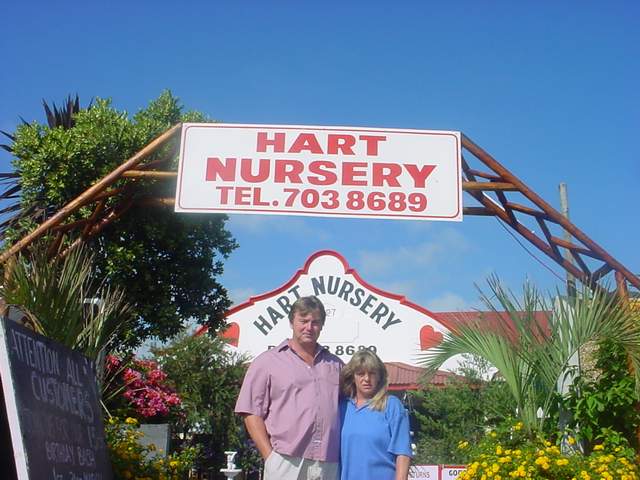 Gary & Pam Hart (Circa 2003)
Gary and Pam have been in the Nursery Business for 22 years. Pam's father, the late Roy Mountjoy started the business in 1987 as a retirement hobby. Roy was a Qualified Horticulturist and spent his whole life in the industry, since he started out with the Parks and Forest Department at the age of 16. He passed away in 1995. Pam under her father's influence was born into the Nursery Trade and remembers as far back as the days when her father had a little nursery in Gauteng near Boksburg called Shamrock Nursery, which today is a massive concern called Flora Farms. Gary Hart started out with Roy in 1990 and fell in love with the Nursery Trade, with a distinct passion for bedding plants. In 1993 Gary and Pam purchased the Dual-Zoned Commercial and Residential Property of 8565 square meters, or One Morgen, sub divided and sold off a portion leaving 3369 square meters on which the Nursery stands. The total building area space is approximately 400 square meters, excluding Planting Sheds and Changing Rooms. The building is very old and has lots of character and aesthetic value. The building was built in stages over a long period of time.
The original building which is now the office area was the old farm house. It was built in the early 1890's by German Farming Immigrants. This part of the building is made up of soft red bricks and lime. The rest of the main structure was built pre-Second World War, but we are not sure and was built with strong old-fashioned building blocks. All the original wood is all Oregon Pine. All the roof beams are solid Oregon. The original front door, made from Oregon Pine still stands firm and was completely restored by Pam Hart in 2003. The Office Area is home to a very old Victorian Fire Place which was also restored by Pam Hart in 2003. The interior of the building has been completely redesigned and modernised. All the original floor boards had to be removed as they were rotten and full of beetle. The floors were concreted in and replaced with 240x240 commercial terracotta tiles. On the Gable is a date stamp of 1927. It was around this time that the first businesses on these premises started. During the 1940's it was host to the local Post Office and a Garage which had one of those old glass-bowl fuel bowsers servicing Ottery and the Philippi Farming District. Since that era, many businesses came and went. It was once a Furniture Store, but we believe it was mainly used as the local Cafe. Our electricity bill still reflects a business called Springbok Cafe on it, which from recent revelations was active in the 1950's. The Nursery is situated around the old building and has the Old Cape Dutch feel about it.
The original One Morgen site was portion of a Grant to A.C.F. Wegner on the 13th of September 1894, styled as Lot 76C.
Interestingly, the One Morgen Site remained intact for just over one hundred years, until the rear portion was sold off in 1995 for a Housing Development.
Over the 100 years various owners from the Original Grant of 1894 were as follows:
Land Granted to A.C.F. Wegner from 1894 to 1921; G Luyt from 1921 to 1934; Everett Eddy from 1934 to 1947; Mohamad Adam from 1947 to 1955; Upon the Death of M. Adam the property was left to Abdurahman Hoosain Brey, who sold it to his nephew Abdulla Mohamad Adam in 1960. A. M. Adam kept the site another 43 years until 1993, upon which time Gary and Pam Hart bought the One Morgen site.
More recently, Gary and Pam Hart acquired a neighbouring plot belonging to Mr Stanley Eddy of a further 677 square meters on the 1st of April 2005. The Plot is still zoned "State" as it was once earmarked to become a Police Station prior to 1979, when Mr Eddy bought it from The Government. The extra land has been utilised for more Nursery space and much needed parking. The site is situated on a corner and has given the Nursery more road frontage onto Ottery Road.
We are a Retail Nursery specialising in mainly plants. We keep a few accessories, but not much. Our main speciality that identifies us from the crowd is our very own onsite seedling and compost bagging production. We have although small, 1000 square meters of area where we grow mostly flower seedlings throughout the year. For those interested and reading from overseas, the Western Cape is one of the few places in the world where you can grow annuals all year round and outdoors. Our Mediterranean Climate assures us of this. In winter, the Western Cape is an ideal place to grow a English Country Garden full of Primulas, Cinerarias, Stocks, Pansies, Delphiniums, Larkspurs, Foxgloves and Bulb Varieties etc. In fact, the winter garden in the Cape can be the most successful garden of the year.
As far as Summer Seedlings are concerned we can grow most varieties very successfully. Some species like Petunias and Lobelia have damping off problems, but generally most varieties do well. We have done our own bagging of Compost and Soil for the past 21 years and we have full time staff filling 7 days a week just to keep up with the demand. Our full staff contingent at present is 16 people. We have 9 front staff dealing with the public and packing of plants managed by Sammy Paulsen and Tracy Lee Erasmus. 3 Staff fill soil and compost daily, headed by our faithful, sometimes sober Christo. 4 Staff plant seedlings and other planting requirements, headed by our trusty Afrikaans Speaking Xhosa lady Eveline. We often must rotate our staff to fill in when necessary and hire casuals as needed. Gary and Pam Hart, the owners, deal with all the admin and ordering. Look out, on most days you will see either Gary or Pam walking around talking to customers.
Over and above the basics of running a Nursery Business. We have 2 children, 23 and 20 who are students. Candice is studying B.Ed and Cameron is doing a BCom.
We hope this site will help you in your Gardening endeavours. We will add information as we go along that is relative to Gardening in South Africa.